In a Turin more and more alive with initiatives that contrast the difficult global climate, the fourth headquarters of Galleries in Italywhich represents the cultural branch of 'Banca Intesa Sanpaolo': a cornucopia of art and culture that unfolds across the peninsula through the museums of Milan, Naples, Vicenza and now Turin, all housed in historic buildings.
10 thousand square meters spread over five floors, three of which are hypogea dedicated to photography, the beating heart of the new structure, including space for temporary exhibitions and multimedia installations andPublifoto Archive made usable and amazing by the innovative methods and by the avant-garde cross-media of "Live Archive". The Publifoto Archive, created by Vincenzo Carrese (Castellammare di Stabia / NA 1910, Guanzate / CO 1981) – who founded the like-minded agency in Milan, active until the 1980s, revealing himself as such a far-sighted personality that he built a huge archive available to the market – since 2015 it has been examined by the bank with its 7 million images.
The main floor 'returns' (an activity rooted in the DNA of the Gallerie d'Italia activity) permanently for public use around forty paintings, sculptures, tapestries, furniture and the image cycle of the old Oratorio in the Compagnia di San Paolo.
An excellent renovation of Banca di San Paolo's first historic headquarters, now Banca Intesa Sanpaolo (including its survival as a branch), which has entrusted the underground spaces to the architect Michele De Lucchi – AMDL CIRCLE. And the 'magician' has carried out an extraordinary transformation of Palazzo's focal point – in whose 'vaults' the glittering blade of material treasures has become a pulsating image with the small legacy of an armored door as an eternal reminder of the old intended use – in a underground space gracefully grafted outward through Luserna stone steps, made comfortable by soft pillows that favor rest and gathering for all ages: essentially a new and original square.
Large area dedicated to the commendable didactic activity – with three classrooms with mirrored partitions that can be maneuvered to create a simple and large environment – aimed at conducting projects and workshops for schools at all levels, developing in young people's thirst for knowledge and ability to analyze and judge the present.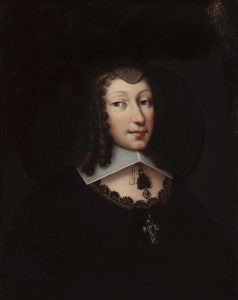 In short, an unforgettable day for Italy and Turin in the presence of the bank's top management and numerous institutional authorities: a further splendor in Piazza San Carlo imbued with history since its inauguration in 1638 by Cristina Maria di Borbone-France. Determined and strong-willed woman and generous patron: daughter of King Henry IV and his second wife Maria de 'Medici and sister of Louis XIII. She became Duchess in 1619, and happily married Vittorio Amedeo I of Savoy at the age of 13 and once a widow, diligently defending her title of regent of the Duchy of Savoy. The aura of this woman with a unique temperament nicknamed "Royal Madam" is still blowing strongly, and perhaps it is no coincidence that we meet her portrait (work from 1640-1645 by a painter active for the House of Savoy) in the Piffetti Room, one of the historic rooms on the floor nobleman of the Palazzo Turinetti. Here he actually welcomes us Christina of France in widows witness and advocate for the urban and architectural renewal that began in 1563, when Turin gained momentum as the capital of the Duchy of Savoy, and seven citizens founded the Compagnia di San Paolo, the bank's historic core, to help the poor and provide charity. Thirsty again and strong in culture beyond the Alps, "Madama Reale" supports the projects of the architect Carlo di Castellamonte, who is also responsible for this building (commissioned by Marquis Giorgio Turinetti di Priero, court banker and president of the finances of the duchy) then expanded and passed through various properties up to the severe damage suffered during World War II. Palazzo, purchased in 1951 by the San Paolo Banking Institute, renovated between 1955 and 1961 until it became the state-of-the-art management of this institute in 1963, and since 2007, Intesa Sanpaolo's headquarters have today undergone a further leap into the future.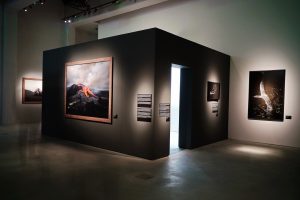 In this historical development of innovative courses and appeals, let's dive back into the magical, silent and intimate atmosphere of the underground spaces where photographs and video art can be considered with greater concentration, determining reflections on life.
Here we come face to face with the two opening exhibitions, starting with "The Fragile Wonder. A journey into nature in change ", photographic report by Paolo Pellegrin (Catalog Gallerie d'Italia | Skira). Born in Rome in 1964 into a family of architects, the artist gave up his studies in this sector to devote himself to photography and, after many years of serious and dedicated work, became one of the most authoritative photojournalists in the world. Able to capture significant nuances of climate change, he presents in this exhibition the implications of this burning theme in Iceland, Namibia, Costa Rica and Italy, masterpieces generally in black and white favored for their universal and metaphorical value. On the other hand, the purpose is to suggest open photos where the viewer can actively enter, 'seeds' that act slowly, eliciting serious reflections and transformations in the way of thinking and acting. The stimuli are strong: volcanoes that in Iceland reveal the explosive power of Mother Earth, seas that shake the shores with propulsion and magmatic material that, as it cools, take on disturbing forms.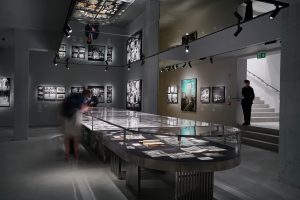 On the occasion of this stimulating exhibition, Gallerie d'Italia – Torino presents #INDEa schedule of meetings with artists, writers, journalists, musicians, science communicators, and neurobiologists exploring current and unavoidable problems.
Reflections on the destructive act of man, unable to respect and protect the environment, flanked by another equally engaging exhibition "From the War to the Moon. 1945-1969" (catalog Gallerie d'Italia | Skira), selection of 80 historical images – taken between 1945 and 1969 and preserved and improved thanks to the cataloging, restoration and digitization of around 30,000 photos – from the Intesa Sanpaolo Publifoto archive, which tells the daily story between joys and sorrows, small and large men and women on a peninsula that is wounded by war, amplified by the economic miracle until the landing on the moon. For those who are less young, a journey à rebours resurfaces even in their own existential journey through images that have not become a static gallery but the subject of continuous study, for those who are younger, the discovery of a significant past to understand how between contradictions and successes Italy has become one of the most important industrial powers. Chatting women look out at the houses damaged by the bombing in Milan September 14, 1945, various photos of mondine, A man and a woman riding a pair of bicycles in Milan, November 1947 observed with confusion of a "cast iron", pictures of various Miss Italy competitions to look at with hope of a reconstruction after the tragedies of recent years.