The column edited by Spazio Taverna gives the floor to graphic designer Riccardo Falcinelli, who questions the relationship between books, cinema, virtual reality and digital technology.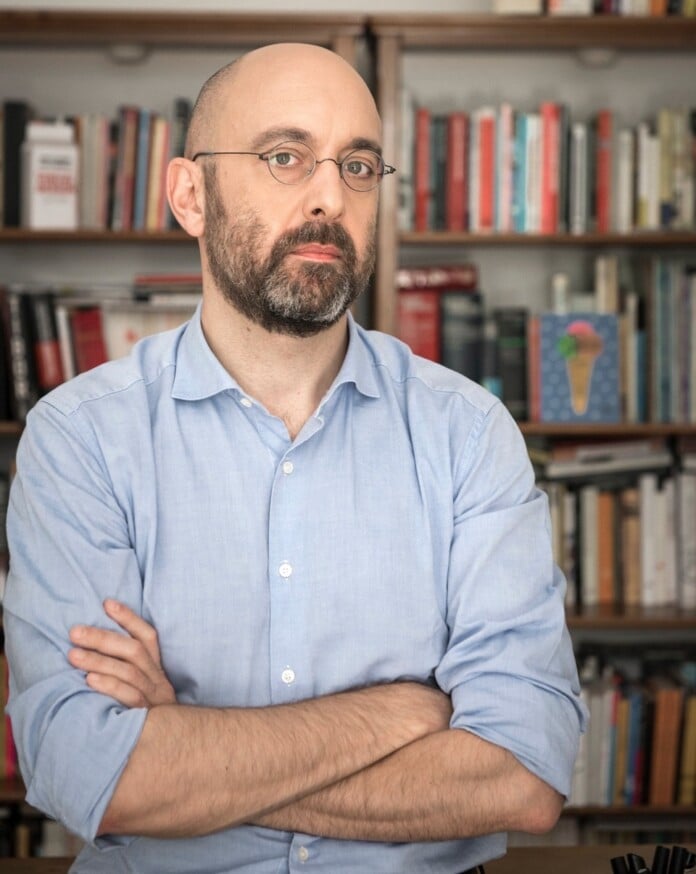 Riccardo Falcinelli (Rome, 1973) is one of the most popular Italian graphic designers. He teaches Perception Psychology at the ISIA Faculty of Design in Rome. In 2011 he published with Stampa Alternativa & Graffiti Watch. To think. To design. Neuroscience for design. For Einaudi Stile Libero he published Portable critique of visual design (2014), Cromorama (2017), Figures (2020) and edited Philosophy of graphic design (2022). Hans is the current graphic project of Einaudi Stile Libero.
What are your inspirational references in art?
So far, I visit at least two of the arts: graphics, which have been my official profession for twenty years, and writing, which is the project that fascinates me most at this moment in my life. In both cases, I have always sought inspiration from the outside: the graphics are protean, a little craft, a little mass media, a little art, it is not a pure language and therefore one can not help but look around. In my training, painting and cinema were basic, not graphics per se: I looked to Pontormo and Hitchcock, not immediately Munari. Also because what interests me most is the instructional aspect, in staging, even when I design the cover of a novel. The same goes for non-fiction: I looked more at documentaries, movies than other writers. Of course, what I'm worried about (primarily visual perception) are Gombrich or Arnheim models you can not ignore, but the real inspiration was the TV John Berger or more recently Mark Cousins ​​with his The story of the film.
What is the project that represents you the most? Can you tell us its origin?
Probably Figures. I wanted to write a book, rigorous in terms of research, aimed at an interested but non-specialist public, and which could be read while watching a documentary or listening to a speech. They told me I was doing "disclosure", but I think that's an inaccurate verdict: this was not the idea. Dissemination facilitates for an ordinary reader, often ends up listing ordinary places, or only talking about the most famous artists, while I would like to make knowledge available to a reader who is already sophisticated, but who does something completely different. I wanted to write for an educated, perhaps very cultured, but who lived in a different sphere than mine: I imagined the ideal reader among economists, biologists, scientists. That is why I was interested in seeing to what extent an essay could apply the codes of entertainment in its literary aspect. Basically, it was an experiment primarily on the book form, on an idea of ​​a book, even before its theme.
How important are genius loci to you in your work?
I am Roman, I studied in England, I consciously decided to live and work in Rome. In the beginning, it was a bizarre situation: my areas of interest are design and mass communication, traditionally "Milanese" things. It must be said, however, that when I started working, in the late 90s, design and its profession were changing: with the advent of the internet first, then of social networks, the connection between design and modernism disappeared . been central through the twentieth century. Milan, after all, has always been modernist in spirit: the first graphic studio (Boggeri, 1933) could only open there. Rome No. Rome is figurative, scenographic in the sense of Bernini or Cinecittà, or rhetoric in the Cicero sense. Here was cinema and television, not design. But in narrative times like the ones we live in, this Roman vocation for staging is an interesting lifeline for the design of the future. In short, I think I was right in staying.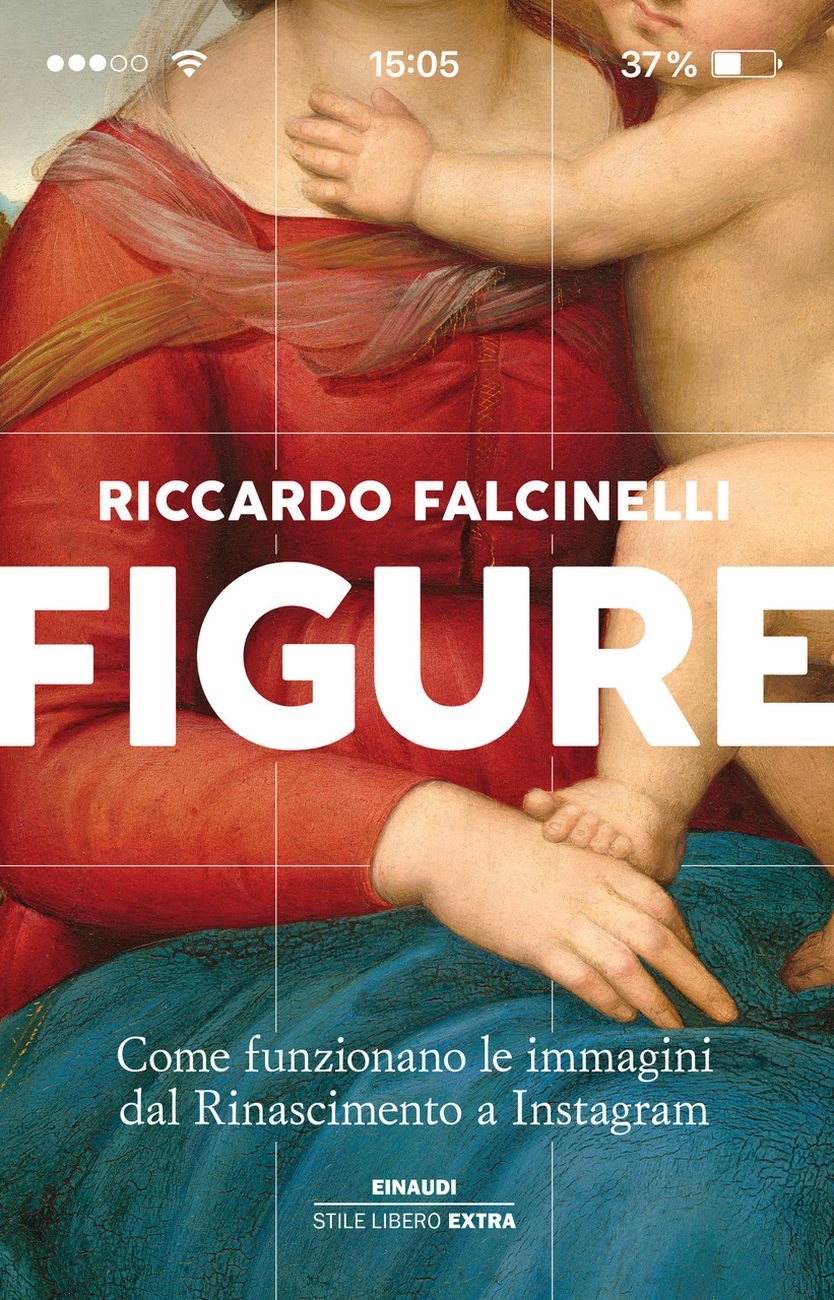 THE FUTURE ACCORDING TO RICCARDO FALCINELLI
How important is the past to imagine and build the future? Do you believe that the future can have an old heart?
There is no future without a past. I have no doubt about this. And not because history is a teacher of life, it is our roots or other similar ideas now reduced to slogans. There is a simpler and more practical reason: imagination, ideas, the ability to invent or imagine need materials to take as a starting point, and the past is a gigantic stock of stocks, of sources. There is no imagination outside the culture. The idea that children have a spontaneous and springy imagination is nonsense because children are not well observed: their creativity is a consequence of knowing how to compare the things they discover every day and which children discover the many. In a sense, children are always "educated" and use culture to build unpredictable associations. And so, when we talk about the past and design, I like the story of Steve Jobs: in college he takes a course in calligraphy and typography, and since the typographic measurements were performed in multiples of 12 (an eighteenth-century idea by Francois- Ambroise Didot), Jobs decided that all monitors would have 72-inch resolution. The standard that everyone uses over time. If you think about it, it's wonderful: the resolution of all ours unit is in debt for an information election.
What advice would you give to a young person who would like to go your own way?
Examination. Get a culture. I do not think there is anything else. In a society where thousands improvise artists, studio makes the difference.
In a particular epoch of post-truth, does the concept of the sacred still have meaning and power?
The sacred is fundamental, it means giving things meaning, establishing a value, claiming that some experiences have a greater density than others. Then there are those who live it in a strictly religious sense, others – like me – recognize it above all in the cultural aspects. But we must be careful: all too often in the industrialized society, the sacred is confused with "the exclusive" or with "glamor", it is treated as a worldly value. The most authentic sacred is instead in the relationship between us and some of the experiences of the world, it is in that respect that we decide to dedicate to things.
How do you envision the future? Could you give us three ideas that you think will guide the next few years?
As for the images, virtual reality is just around the corner. At the moment, it is referred to the video game world, but it will soon become a broader and more widespread system, also for the arts. This will lead to the end of the "Albertian window", of the idea that artificial images have boundaries, contours, frames. Then I have more than predictions two wishes: I want the cinemas (which are obviously in crisis) to learn from museums: it would be nice if they showed news on the weekends and classics during the week, maybe on film. It may seem like an old art house idea, but it can become hypermodern. Streaming platforms have shown that there is great interest in movies from the past, movies like TV forced us to watch after midnight. We need to change the paradigm: imagine cinemas more like the library or the internet. But at the bottom of this desire is linked to another aspiration: that we stop being interested in progress as a goal in itself and think of aesthetic languages ​​in a historical sense. Art is not electronics.
– Ludovico Pratesi
https://falcinelliand.co/
Old future. Interview with Michelangelo Frammartino
Old future. Interview with Federico Campagna
Old future. Interview with Elisabetta Sgarbi
Old future. Interview with Daniel Libeskind
Old future. Interview with Roberto Cuoghi
Old future. Interview with Antonio Marras
Old future. Interview with Romeo Castellucci
Old future. Interview with Michelangelo Pistoletto
Old future. Interview with author Hanif Kureishi
Old future. Interview with architect Carlo Ratti
Old future. Interview with Victor Stoichita
Old future. Interview with Andrea Cortellessa
Old future. Interview with Giulia Ammannati
Old future. Interview with Francesco Vezzoli
Old future. Interview with Ginevra Bompiani
Old future. Interview with William Kentridge
Old future. Interview with Barbara Jatta
Old future. Interview with Marino Niola
Old future. Interview with Anselm Kiefer
Old future. Interview with Melania Mazzucco
Old future. Interview with Enrico Alleva