Athletic has collected the terrible testimonies from young fans at the Stade France. A horror story: "The police seemed to use us to test new tear gas"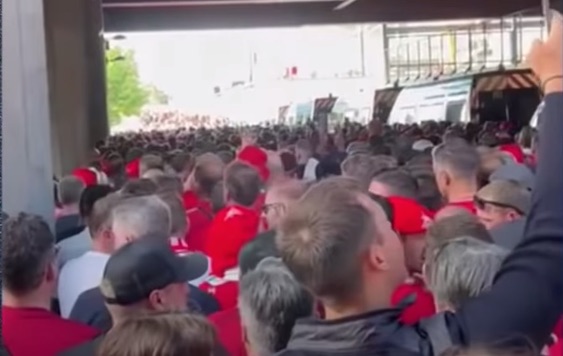 The children who risked dying outside the Stade de France, in Paris, one evening in May 2022, are 9-10-11 years old. They are still talking about falling helicopters, bombs, Putin's attacks, people with hammers. Not in the Champions League final. Not a match. The Athletic has collected a few "small" horror stories. A movie that those who were at home did not see. Not even after in Italy. A massacre was at risk. And reading the children's stories is really impressive.
Carlos is 9 years old.
"I really thought I was going to die. I thought it was some kind of bomb. I was scared because I could not breathe properly. I was scared because I had never seen such problems before. I asked my father, 'Who is doing this to us? and he said it was the police. I was scared because I had always thought that the police were good people to help us ".

"I did not know what tear gas was until my father told me a few days later. I had to put the Liverpool scarf in my mouth. A Liverpool fan, a good lady, gave me a mask and some water. My eyes burned and I cried a lot.It lasted about a minute but it happened on two occasions.Once the bomb fell in front of my dad and he fell.I was scared. I just wanted to be with my mother. She called my dad and I cried and told her I was scared. I ran into my father's arms. I wanted him to pamper me ".
Maxwell is 11 years old.
"They sprayed us with tear gas and I still do not understand why. Everyone shouted at me to come down and cover my face with the scarf. I had no idea what was going on. Everyone's eyes were really sharp. Everyone hosted. I tried to wash my eyes from the water bottle, but I did not have enough water. I was panicking because I did not know what was going on. I thought I was poisoned. I really thought I was going to die".
Noel is 14 years old.
"People were crushed. I saw pictures of what it was like in Hillsborough and it made me feel like they must have had it like that. There was a time when we were heading towards a concrete pillar and i thought we would crash there. I was afraid. People shouted, 'This is like Hillsborough'. My dad has a bad back and I put my arm around his shoulders. My arm broke. I was in pain, but I had to do it. The next day we were at the airport and my ribs … I have never felt such pain. I am shocked that no one was seriously injured or, even worse, killed ".

"A guy started telling me he wanted my ticket. We told him I was 14. He he whispered in my brother's ear that he would tear my father apart, stab him. And then he just started getting crazy. He hit my brother first, then me. It all happened so fast ".
James is 17 years old. He fell to the ground and needed an emergency dental surgery, he lost six teeth.
"There was no one to help us. They were all sprayed with tear gas. Four or five times we have been sprayed. I could not breathe. Gas seemed to come in everywhere: my ears, my nose, my mouth, my eyes, the back of my neck.I kept thinking, 'Why are they doing this? And why are they doing this so much?' I had to say to myself, 'They are not stopping, you just have to survive. It seemed to be suffocating. My eyes were burning. I have never experienced anything like this before. But it was not the end, because they sprayed us again and again . It was as if they had a new toy and used it for their own enjoyment".
Elliott is 9 years old.
"When the tear gas started, I thought he had fallen off a helicopter. I could hear a helicopter above us. I started coughing. I did not know what it was. It just hit us. My nose hurt, my throat too. You made me cry. People shouted at the police: 'There are children here, this boy is not even 10 years old'. But the police did nothing. He did not care".
Harry is 14 years old. He has Williams syndrome, a rare congenital disease. It is part of the Liverpool Disabled Supporters' Association. He goes to fights from the age of five.
"I had a burning sensation in my throat. I thought I was going to die. There were a lot of people screaming and panicking and I thought, 'What is this?'. For a second, I really thought it was Putin attacking us with gas".
Kade is 12 years old and has asthma.
"I started coughing, but my father kept saying to me, 'Please, Kade, keep going.' He pushed my head against me to prevent me from breathing further. I looked at him, and his eyes were full of tears. He coughed. I started to panic because I thought: 'What should I do if I am separated from my father? I'm in the middle of Paris, it's dark and late, and I know no one.'I pressed my father's hand even tighter. There was more and more tear gas. When we got back to our car, I took off my jacket and my arms were red. My dad said it was his fault he was holding me too tight to hold me tight. I have not even heard from him, to be honest. I was so desperate ".
Danny Smith, on the other hand, is a father. He was attacked by a group of Frenchmen with hammers and other weapons. They squeezed him to the ground and stole almost everything he had. Danny's legs are broken in three places. He has undergone surgery and will not be able to return to work for nine months. His son Dan is 13, Dan. He was there, he saw everything.
Napolista
ilnapolista © all rights reserved