An innovative project promoted by Icon's Milan, starting on June 8, in conjunction with the Milanese Salone del Mobile, will present in the Devina Nais – Icons Flag room in Viale Piave a line of furniture where art is the real protagonist. The project is called "Art back Home", a unique initiative of its kind for the way in which the paintings are displayed in cupboards and pantries: It is not a question of printing a picture on the door of a piece of furniture, but of a real co-location process through which the work finds a new emotional key. Paolo De Biasi, Fulvia Mendini and Vanni Cuoghi the artists are involved in the project in Icons Milano, where two of their canvases have been included in a production process aimed at bringing design into the homes of Italians. We talked about the curiosities and details of the project with Ivan Quaronicurator and art critic, for years behind the image research of the three artists chosen by Icons Milano.
Let's talk about the Art Back Home project. How did Icons Milano want to bring art and design together?
«As often happens, it was a coincidence, the first artist proposed by Icons Milano, Paolo de Biasi, is also an architect, and is therefore often in contact with companies that produce interior furniture, one of these were Icons. The project therefore stems from the desire to make visible a relationship, that between art and design, which in reality has always existed; hence the choice of the two other artists, Fulvia Mendini, who is already an expert in the design world, and Vanni Cuoghi, who has been involved in decorating for years, and thus the very start of the production project ».
How can a company that produces handicrafts get in touch with art?
«Simply by meeting an artist and creating a collaboration; But the company's choice to go down a path that is not necessarily profitable is interesting: Icons' intention is not to make numbers, but to explore new languages ​​through the production of furniture that is strictly associated with the iconographies of the works made by artists specifically. for them. Works that remain on canvas, but from which details are taken and then reproduced on wood with an innovative printing method ».
A kind of development of the furniture produced by William Morris' Arts & Crafts movement, but with different industrial technologies and materials. In this connection, can the creation of this furniture be traced back to the production of a work for a piece of furniture that has already been designed or vice versa?
"In the production process, each image was linked to an existing piece of furniture, it was the artist's imagination that was somehow adapted to a modular structure, made with different materials. To be precise, two paintings by each artist were reproduced on the panels of a cupboard and a pantry, then four pieces of furniture born of this combination, and then brought to market with a limited series of pieces ».
Unique furniture, regardless of the beauty of the pictures.
"Yes exactly. Personally, I think they are furniture to think, of course they have a function, but the image associated with certain colors and varnishes makes a piece of furniture something more than a functional object, it becomes a meditation object."
Did the choice of the artists themselves influence this meditative aspect?
"Admittedly, Paolo De Bias' imagery is greatly influenced by De Chirico's metaphysics, but also by Aldo Rossi and Le Corbusier, who are many references to the art of Tuscan primitives or the early Renaissance, which is the iconographic armamentarium that used the Italian 20 century, painting from the 1920s and 1930s ».
In some detail also the works of Beato Angelico.
"Yes, in fact, De Biasi often mentions him along with Giotto and Simone Martini, whose factual elements are extrapolated and placed in a purely metaphysical landscape, where instead of the mannequins there are still evocative objects, such as colored boxes that seem to come out of the paintings of De Chirico or Savinio, as evidenced by the titles – "… if not for example" and "Far from" – which seem like sentences taken from dialogues, without a specific meaning ».
Let's go back to Icon's Milan. After this first collaboration with the artists, what are the company's prospects?
"Icon's would like to continue to produce a line in harmony with the imagination of contemporary artists while building an archive of these collaborations: The company acquires the paintings, which it will then use to produce furniture and create an archive. At the same time of the paintings and furniture models, have been obtained from these paintings.But the idea is to move forward, without expecting sales figures, with the sole purpose of exploring the possibilities of collaboration between design and art, better between furniture and art.
An approach that already existed from Arts & Crafts to Depero up to today, but which today returns with the desire to trace a (mutual) relationship between the different disciplines. Of course nothing new, let's think of the Bauhaus and making art in the context of industry, something which in my opinion today's artists should not discard: artists must start entering into dialogue with the productive society again, as they did in many in history , both for graphic design and advertising, and for furniture production ».
Not something new, but something that wants to come to light.
«Yes, a mutual curiosity between the world of production and art, where art proposes itself as a creator of worlds that go beyond the necessities imposed by production. Personally, I find it courageous that Icon's has entered into a collaboration that is not necessarily profitable, which in any case would be a confirmation, but with the central idea of ​​examining the connection between the production of furniture and the artistic imagination. "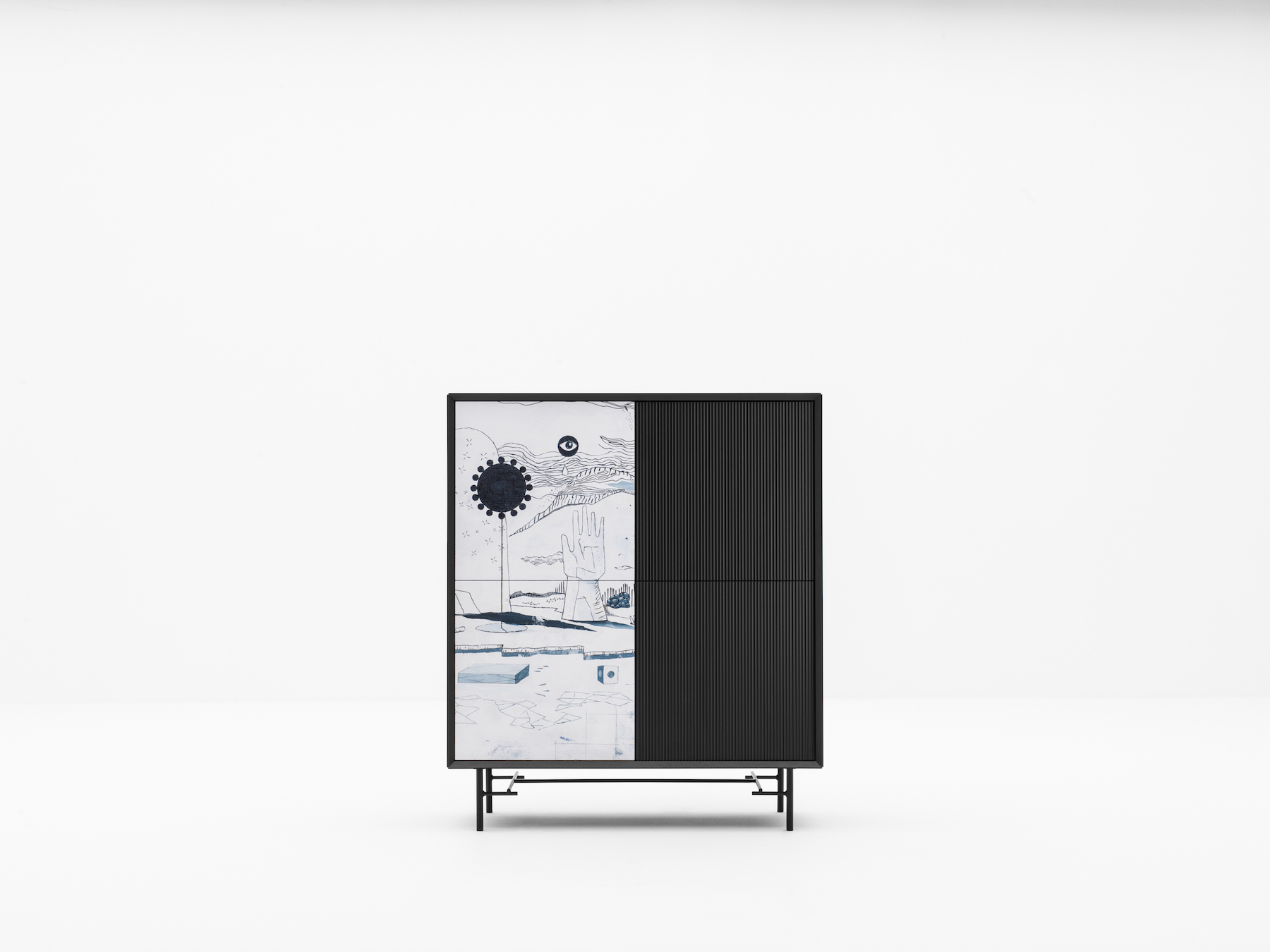 A new line from Icon's Milan, which from the evening of June 8, where the products from the Art Back Home project will be unveiled to the public, will be presented as an experiment, a new idea and at the same time a curiosity that still shows the presence of a creative and experimental oar in the production of furniture for interior design.