The search for Thomas J Price it crosses different disciplines, from film to photography, but sculpture is the British artist's favorite field. Through his works, he reflects on strength, representation, interpretation and perception, in art as well as in society. By reproducing enormous common images, Price brings our gaze to the ordinary represented on a large scale or with "noble" materials that we are not used to associating with the everyday, with the ordinary. In doing so, his sculpture undermines the social preconceptions that have a history that spans centuries and that cause us to connect certain shapes, dimensions, and materials with power, according to a hierarchical logic that we have not established. We had the pleasure of talking to the artist, on the occasion of his exhibition at Hauser & Wirth St. Moritz.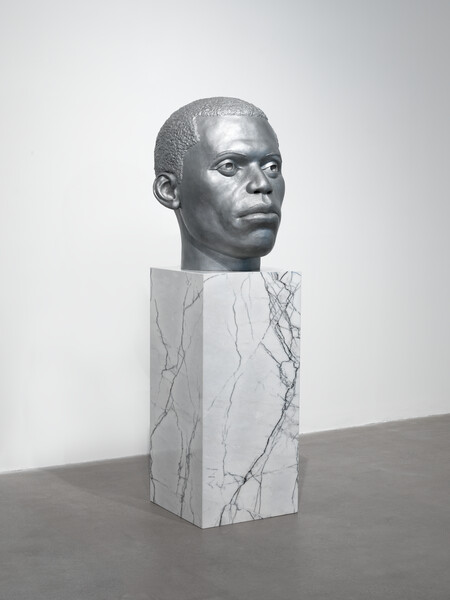 Thomas J Price: "The Space Between"
For the staff at Hauser & Wirth from St. Moritz, "The Space Between", Price presents a series of works in various sizes, from small to large, which can be attributed to two decades of artistic production. Also on display are two video works that show us another aspect of his work. Thus, the artist gives us his reflection on the ancient tradition of monumental sculpture, in relation to which two basic concepts arise: symbolic power and hierarchy, associated with dimensions and materials. Price's sculptures reveal themselves as psychological portraits: they are observed individuals, ordinary people made works of art that refer to the ancient and the classical, engaging doubts.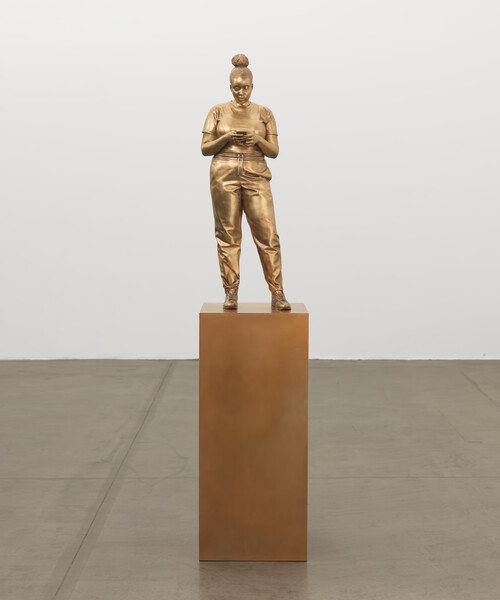 Your first solo show in Switzerland at Hauser & Wirth St. Moritz is called "The Space Between". What is this space? Can you tell us something about this exhibition?
The title of the exhibition is deliberately ambiguous, but it certainly speaks to the idea of ​​a space between objects, people and understanding. The gap could be thought of as a potential volume for new understandings. For example, my sculpture Sonic work (Collective Palette # 01) captures the invisible space between the outside world and our innermost thoughts, and shows the inside of one ear.
Located in public and private spaces, your sculptures often portray people doing ordinary things like looking at a smartphone or standing in a relaxed position. So your job is to "celebrate the ordinary", as you said. In fact, today there is a renewed need for generality, it is evident in art as well as in social networks. Why do you think this is happening? What do you think about this need for generality?
By monumentalizing the ordinary, we are able to criticize what we consider important, what we consider valuable in our communities, and what we collectively choose to provide public space. I want my sculptures to immediately connect with the viewer and interrupt the way we construct a narrative for another, how our perception develops and our attitude to representation. The works have become tools to change our unconscious thought process and provide a moment for individual and collective re-evaluation.
Your work combines old techniques and materials with modern ones. From idea to object, what is the process behind the realization of your work?
I want to challenge the value system of portraits and monuments. My figures and heads are amalgamations of various resources, from observed individuals and stereotypes represented by the media, to references to ancient, classical and neoclassical sculptures. The materials and methods used in Greek, Roman and Egyptian statues are combined with 3D scanning and modeling to generate these transhistoric forms. These imaginary mergers are an attempt to criticize the power structure that indoctrinates us to abide by the implicit promise of social reward.
What attracts you to ancient art?
My work has always put traditional materials and ancient techniques together with contemporary, alluding to heroic figures or symbolic objects that have been commemorated in bronze or marble. I consciously use scale and material to criticize monumentalism, and distill meanings of status to question the mechanisms that are in place that strengthen our cultural values. Bronze contains historical references of superiority and power attached to wealth, it is the material to mark something as "official" and to mean value. By playing with the material hierarchy in my works, I am able to challenge viewers' expectations and provide an alternative narrative to the missing ones.