Festa: "The culture of books is fundamental because it helps to tell us, get to know us and make us known"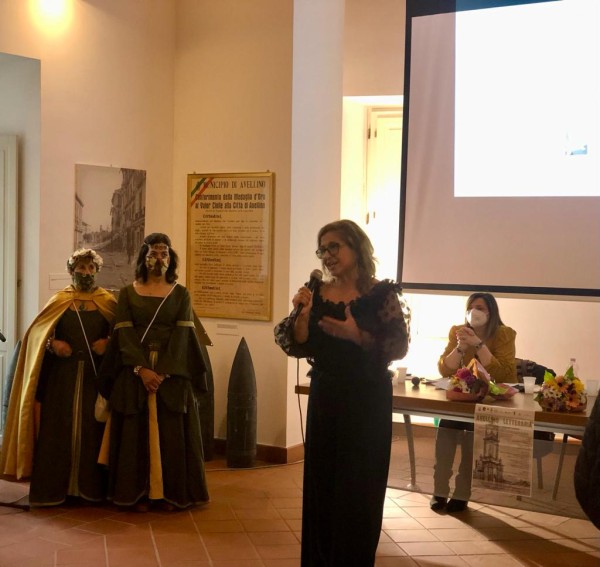 Avellino – Today, at Villa Amendola, the second edition of the "Literary Avellino" review was presented. The event, sponsored by the municipality, province and diocese of Avellino, promoted by Festa Viaggi, was organized by Annamaria Picillo, President of Itinerando Irpinia. The initiative, which officially begins on May 28 and ends on December 17, consists of 12 inevitable meetings dedicated to culture: from music, theater to poetry, science and philosophy.
The basic purpose is to promote literature, make known and re-evaluate our municipalities' historical, artistic, cultural and religious heritage and thus create an identity sharing: "Our city has culture and also our places, we have a territory that deserves to be observed, loved and visited. We have magnificent places that deserve to be known and visited ". – declared Picillo- "We are here to start a new literary journey: 12 events that will deal with literary works, fiction, non-fiction and above all local history, because it is through the book that we must pass on and learn about our origins and our predecessors. This initiative stems from the desire to be together; I thank the municipal administration, which gave me the opportunity not only to write this format, but also to convey the love for my city ».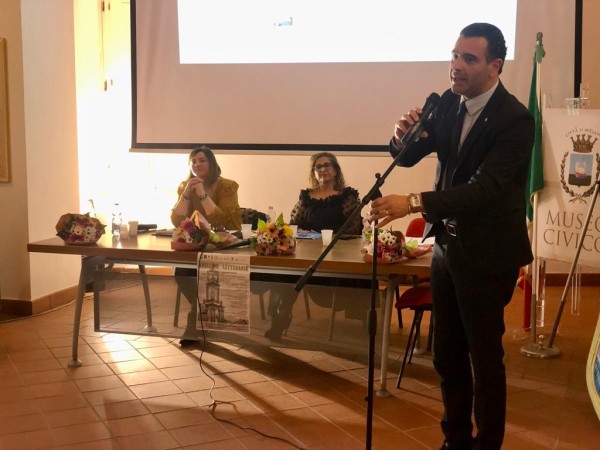 Also present at the event was the first citizen, Gianluca Festa, who emphasized the importance of culture, an essential element capable of making known not only ourselves but also our roots: "Annamaria presented the initiative during the pandemic and feared that difficulties would arise in supporting it, despite this, the idea was received with interest, attention and courage. The culture of books is fundamental because it helps to tell us, get to know us and make ourselves known. Within Campania we are a little known and we do not have the courage to go beyond the borders. Therefore, we must have the strength and courage to relate to this noble sense of culture and support the initiatives that enable us to pass on our story. Culture helps us grow. These events allow us to experience our city and feel it ours. "
Appointment calendar:
Saturday, May 28 Mirella Napodano, "But Love No".
Delta 3 edizioni, epistolary novel for the memory of emotions, participates together with the author, Paolo Matarazo, journalist.
Saturday, June 18 Nicola Di Iorio, "Red from the Ground",
participates with the author Francesco Emanuele Di them,
musician
Saturday, September 10, Prof. Luigi Anzalone, Emanuela
Sica, "Grazia Deledda – Reed in the Wind", Pensa edizioni, participates with the authors Marina D'Apice, journalist.
Saturday, September 24 Marco Urraro,
"Caruso" Guide editions, participant with author Stefania Marotti, journalist for "Il Mattino".
Saturday, October 15 Emanuele Esposito, "Bulli and Pupe"
Feltrinelli editions, participates with the author Fiore Carullo,
Journalist.
Saturday, October 29, Cecilia Valentino,
"Thread of Remembrance" A villa and a town, Methite editions, participates with the author Armando Montefusco, historian.
Saturday, Nov. 5 Ciro Troiano, "Tatten of the Nervous, I Shot Him," victims and offenders in the mistreatment of animals, Low Editions, joins the author, Emanuele Esposito, family mediator criminologist.
Saturday, November 19 Pellegrino Caruso, "Orazio Flacco. Text problems in book I of Carmina "Abe Napoli editions, participant with the author Floriana Guerriero, journalist of" Il Quotidiano del Sud ".
November 26 Maurizio Ponticelli, the true story of Martia Basile, Mondadori editions, joins the author Professor, Caterina Lerro
Saturday, December 3, poetic reading by Rosa Mannetta and Graziella Di Grezia, dedicated to Maestro Mario Cesa, composer and musician, teacher at the Domenico Cimarosa Conservatory in Avellino.
Saturday, December 10, Giovanna Santo,
"My little Infinity", when moments of silence say more than a thousand words, Abra Book editions, participates with the author Daniela Apuzza, journalist.
Saturday 17 December Amalia Leo, Luigi Maria Pilla "Gocce d'irpinia", Scuderi editions, participating with the authors Gianni Festa, director of Il Quotidiano del Sud '.