Considerations of a completely (or almost) female international exhibition. With a short selection of highlights, plus an unplanned one: the stunning Pavillon of Applied Arts
The move was disruptive, it must be admitted. Having invited almost only women to a huge exhibition consisting of over two hundred artists is a matter of course, but it was not. We are far beyond correctness and such a gesture cannot fail to leave a mark.
Also because the exhibition is a lot up to date. Not only is the quality generally very high, but also thematic mood these are the ones you can breathe wherever the highest level of visual art is produced today. And it does not matter if anyone is in doubt about the level of experimentation. They tend to say: there is quality, but not innovation. But it is wrong to complain. First of all because, let's be serious, art does not have the fashion time, so it is nowhere written that art every two years, or even decades, is capable of producing paradigm breaks with regard to language. And then it is not quite right, however, certain news must be recorded. The same the triumph of painting – many, many paintings on display, something that was unthinkable only a decade ago – signals an ongoing turnaround that has more features of a refreshing improvement than a ebb. The same goes for a reference to dreams and surrealism, which, going on in coordinates, mostly antivirilistically and antispeciistically, is life-giving rather than decadent. In this sense, the homage to the surrealist painters as figure-outsiders of liberties, even sexual, is advocated by the avant-garde and still now shouted.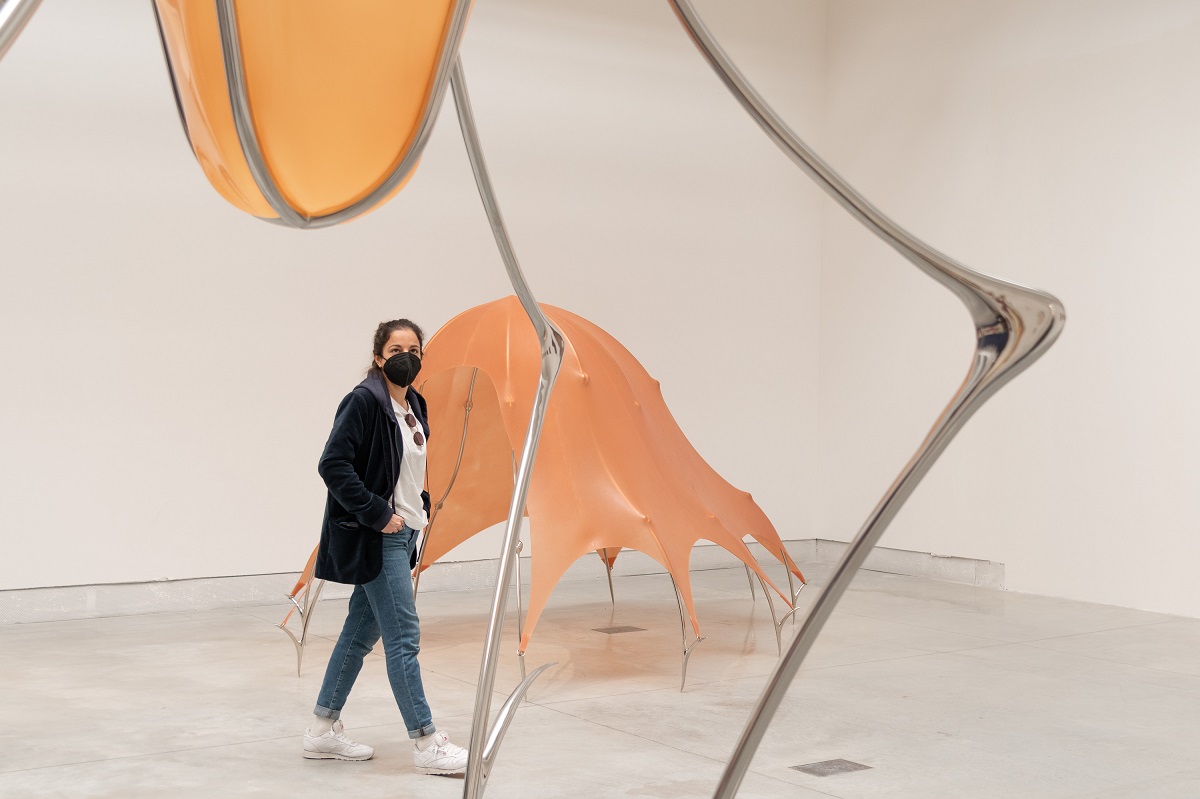 THE BIENNAL OF ALEMANI IN THE SIGN OF VITALITY
Among other things, zero shadows. A surprising feature of The milk of dreams it is vitality. The gloom of many biennials at the beginning of this century literally disappears, paradoxically precisely in the context of a war that frightens the world and a pandemic that is still going on. Death does not live here, at least not anymore. On the contrary, the message is that artists smell a new era of consciousness. No caramel tones eh: the social condemnation is there, but it's more inherent than flat. Revolutions also go – perhaps above all – from the Self, from the body and from the imagination.
As for the exhibited works, a summary of highlight he should prefer revelations, or at least names that are not yet part of the gotha. After all, we are at the Venice Biennale, the guiding spirit should remain the identification of qualified candidates next big thing. And so much the more so because famous names are already raging in the exhibits scattered around the city.
A few exceptions should be made, however, precisely because of the need to pay homage to trails that were not always considered in the past as they are now. It is especially important to highlight the contribution that the presence of the works makes to the exhibition Cecilia Vicuña (Santiago de Chile, 1948; lives in New York) e Mrilalini Mukherjee (Bombay, 1949 – New Delhi, 2015), less well known by the general public than – for example – Nan Goldin, Barbara Kruger and Rosemarie Trockel. Names, the latter, however, are protagonists – it must be said – of remarkable and not obvious interventions.
Cecilia Vicuña must be mentioned first. It represents along with tutelary deity Leonora Carrington, the very essence of this biennial. More: it could be said that it embodies the perfect connection between the nocturnal and esoteric surrealism of a century ago and the more extroverted and full of atavism of today. The space dedicated to her is centered around a newer environmental installation, around which there are magnificent paintings which, although dating back to the seventies, appear very topical. Leopard of Ojitos, the painting with the leopard standing proudly and meditatively, leaning between two trees, is an unattainable work. It seems to have been realized now, especially for The milk of dreams. Disturbing and sacred, it has an aesthetic at the same time queer and Byzantine, which could make it a pictorial icon for our time and the ones to come, and even more so for the fact that it was made a long time ago, with enthusiasm – therefore – visionary in the literal sense of the word.
The sculptures chosen to represent also remain etched in the mind Mrinalini Mukherjee, recently disappeared. These are totemic women's dresses, both phantom and cyclopean, made with the precious Arabic macramé technique. Exhibited, they stand side by side. The almost baroque complexity of their structure mysteriously sharpens their character of totemic simplicity, and this leaves one already amazed and attracted. But in some passages, these realizations are animated by an additional conceptual circularity that is activated by itself and in a strong subliminal way. That is, when the dress, weighty and articulate, as well as drastically obscures the bodiliness, then ends up defining distinctly sexual organic forms.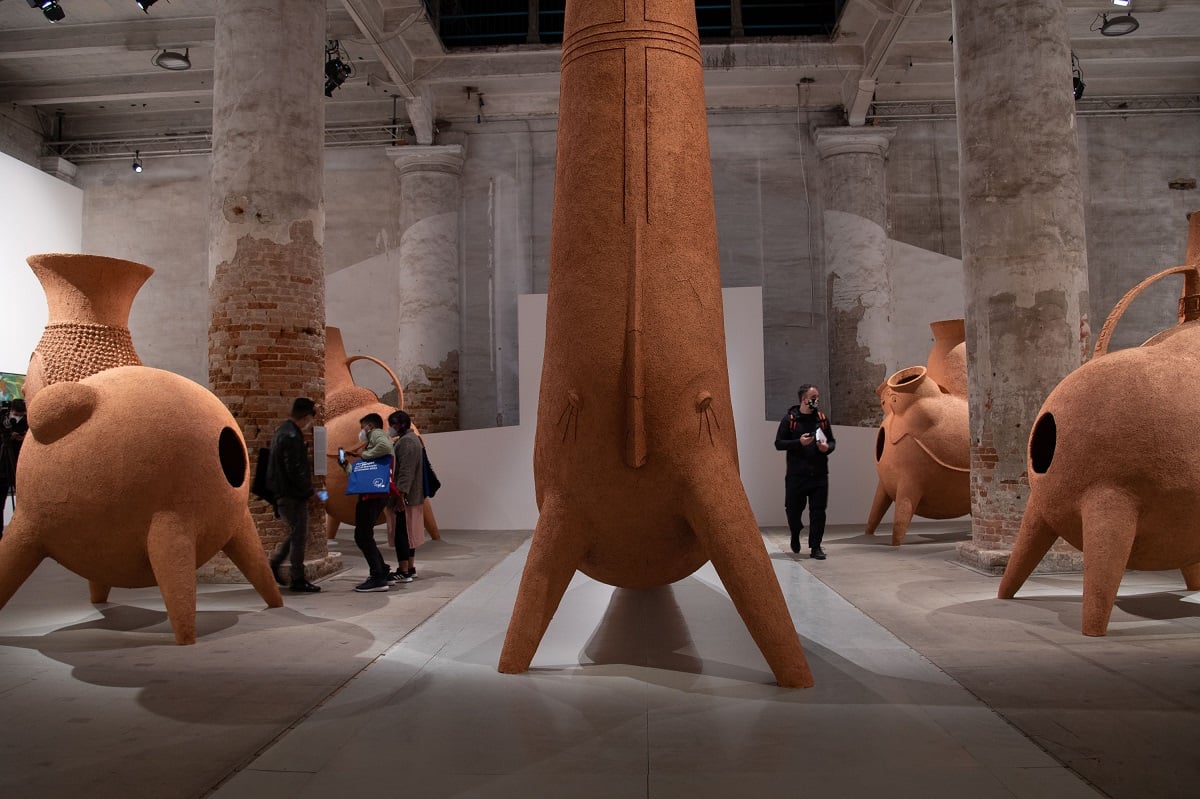 MONIRA AL QADIRI, LOUISE BONNET AND PORTIA ZVAVAHERA
As for the artists who can be described as new or in the middle of the careerif on the one hand – as mentioned – many more would be invited, on the other hand it must be admitted that it is quite easy to identify a trio of marvelous accomplishments suitable for a report like this, which is not only intended as a listing. .
The trio proposed here includes Monira Al Qadiri, Louise Bonnet and Portia Zvavahera.
In the sculptures of Monira Al Qadiri (Dakar, 1983; lives in Berlin) there are connections with those just mentioned by Mukherjee. Like them, they are animated by a cumbersome and enchanting complexity. These are three objects that rotate about their own axis, clearly inducing drill heads for oil extraction. The referential appeal remains alive, but at the same time gives way to something else. The artist turns them into ritual archetypal presentations e.g. camp, astonishing in their ambiguous sparkles. All in all, they are small in size and have a jubilant appearance mirror ball from the disco, with their iridescent color. But they are also terrible and threatening because of their toothy and sharp structure, as well as – paradoxically – for the fact that they are static. The artist's ability to match many meanings without leaving the form in the least is surprising.
Several bodies and metamorphoses, in an exhibition resembling an anthem to Ovid. This time in a purely pictorial key. Louise Bonnet (Geneva, 1970; lives in Los Angeles) presents a complete academic triptych on the syntactic level. Despite this, it is bursting and sour, therefore endowed with the unsettling power that only innovative artistic products have. It all stands horizontally for several meters in the middle of the Corder. It depicts giant children peeing, or at least sprinkling the world with body fluids, as if to illuminate it; as if the body emitted rays of light or divine rays. They are irresistible. The rudeness that is put on the track scoops out of grace even with the connotations of rendering made on the PC. The figuration, intimate and epic, entertaining and manic, suggests a hyperrealistic Philip Guston. Long live such an imaginary!
Always painting and always maximalism, but of a completely different sign Portia Zvavahera (Harare, 1985; lives in Harare). His enormous paintings, also in Arsenal, do not pass indifferent. They vibrate in the typical way with tapestries, while telling about ecstatic visions of collective connections between humans or animals. They have a very personal two-dimensional syntax that makes them both archaic and psychedelic. They kidnap the senses with an idea of ​​spirituality that is more musical than illustrative. Even the most daring colors are kept within sublime harmonic coordinates. Everything is dance, a slow vortex, in a vortex of paradoxically earthly bodies and gestures. It's hard to leave them in a few minutes in front of these authentically mysterious works.
Returning to the central pavilion at the Giardini, the space where they have been masterfully combined deserves special mention. Julia Phillips (Hamburg, 1985; lives in Chicago and Berlin), Hannah Levy (New York, 1991) e Jana Euler (Friedberg, 1982; lives in Frankfurt and Brussels). The trio is integrated (and led) by the elders Miriam Cahn (Basel, 1949; lives in Stampa), as well as from the lament Kaari Upson (San Bernardino, 1970; New York, 2021). A total of five dark and disturbing artists, heirs to the most stinging expressionism and the most jarring surrealism. An exhibition within the exhibition, a kind of secret exhibition "capsule", certainly more captivating than those rightly called present in the exhibition, set up according to more philological and museum criteria. Perhaps this is the hottest moment of all The milk of dreams.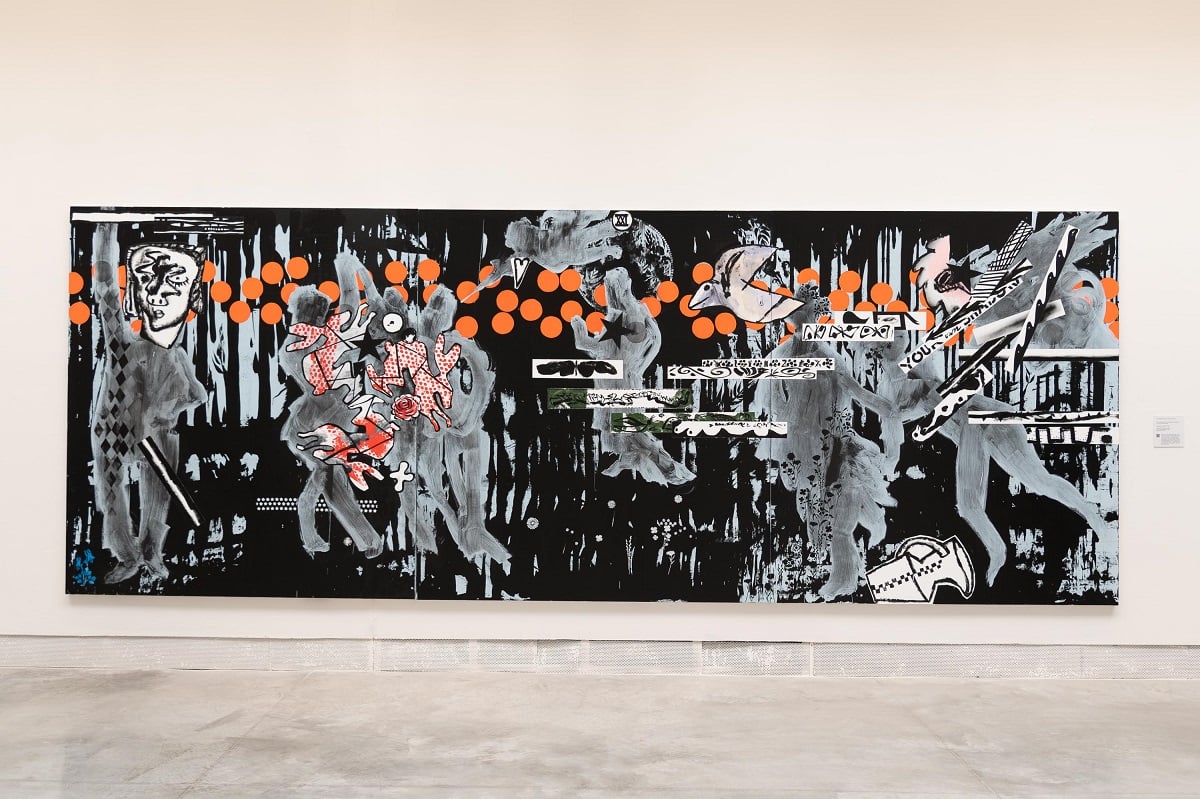 THE PAVILLION OF APPLIED ART
Finally, an unplanned event. An indication of an intervention outside the exhibition. It risks going unnoticed because it is in the theoretically smaller pavilion of "Applied Arts". Instead, it is among the most relevant things seen between Giardini and Arsenal. The theme that is treated is thus completely in line with Cecilia Alemani's exhibition.
This is a video of Sophia Al-Maria (Tacoma, 1983; lives in London), engaging and full of iconic moments. It revolves around the fascination of an Indian sculptural carillon from 1790, displayed at the Victoria and Albert Museum in London, consisting of a tiger and an English soldier from the time. In the precious artifact, the feline is immortalized in the process of dominating the soldier and biting him. In the video, the angry tiger becomes the guiding spirit of young women and their consciousness. Whispers things to them, gives them courage, makes them better. The sequence of episodes, where the daily and the fantastic are grafted onto each other, creates a vortex that can not be forgotten. Introspection and action cross each other continuously and magically. The work has a twist that is hard to find even in the most lavish cinema and is indebted to special effects. The climax is reached when a girl dressed as a samurai in the halls of a museum threatens the imitator of an ancient male deity by surrounding her as in a ritual. There is no shortage of an ironic vein that enriches, rather than smoothes, a lot of wonderful ferocity.
– Pericles Guaglianone