It will be published today, May 4, in bookstores "I would like to see the children play. Stories of a Nurse in the War "(Libreria Pienogiorno) by Marina Castellanofor years engaged on many fronts as a clinical emergency specialist with Emergency, Doctors Without Borders, ResQ People. The author tells about the war on the side of the victims, in this case on the side of children: from today they are at least 200 children killed only in the conflict in Ukraine.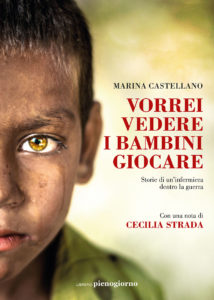 Of I want to see the kids play and the author Cecilia Strada he writes: "Marina and I have been together a lot. We met in a world at war and that was the bad news, but full of people working hard every day to help. sacrificeto relieve sufferingto build peace and rights in the midst of horror – and this was the good news: even to hell, so as not to be crushed by it, something can be done to build "what hell is not", as he said Italo Calvino. Then one day the streets became water; arrived there from various routes we were on Central Mediterranean. Another frontier, another war, mostly against the poor and the blacks; -one humanitarian crisis dramatic and neglected, tiring and unpopular. When ResQ People left the harbor for its first mission, in early August last year, we hugged on deck, happy to be together, and I kept repeating, "How happy are you".
"I still did not know how important it would be," Strada continues, "a few days later my father died Gino, which for Marina had been a colleague, a friend, an important piece of life. And he left just as we were making a rescue at sea, taking dozens of people to safety. In the following days, on the thirty-nine meters of our world, they went on board one hundred and sixty-six shipwreckedthe smallest had eight months. The nurse Marina took care of everyone and lost none of her sight; My friend Marina did not lose sight of me either, she also took care of me – in the craziest summer of my life – and kept me safe. Because that's what Marina does to those around her ".
With courtesy of the publisher, we expect the introduction of the volume:
"In Ukraine, rivers of blood and tears flow. It is not just a military operation, but a war that sows death, destruction and misery. The victims are more and more, just like the people who are on the run. War is madness! Please stop! Look at this cruelty ». These are the words from Pope Francisrepeated almost daily from the end of February 2022, since Russia militarily attacked Ukraine.
Suddenly, that February morning, we Europeans were thrown into a reality we never expected to live: the fear of war, of real war, close to our homes, in our common home. The war was here, a few thousand miles from us. The people involved, this time, resembled us in the color of their skin, their clothes, their home, their lifestyle. Everything seemed dramatically more real, and our daily lives suddenly brittle, fragile, uncertain.
We remained glued to the TV and watched with horror and fear becoming increasingly tragic and crazy images. People who ran away, who ran, retreated behind, in a trolley, a whole life. Children who clung to their mothers, men who accompanied their wives and children on their flight, and then forced to divide at the border, forced to go back, to fight. The subways and railway stations became shelters where people no longer had access to drinking water, where food was becoming scarce. The little ones who were treated for important pathologies, such as an oncology patient, may also be referred, who knows where, in the basement of a hospital, a building, forced to hope to be evacuated as soon as possible, to another country, that keep the light of hope on, to continue to be healed. Meanwhile, out there, the usual scenario for all wars: broken bodies to the ground, raped women, mothers forced to give birth in temporary places, schools and hospitals hit with sadistic precision, neighborhoods leveled.
After the first month of the war, it began to do the countand the toll was dramatic. The civilian victims are hundreds, thousands, well over a hundred children. War kills all innocence, which is why children are so often its favorite victims. Agencies discard numbers, but the real, raw, horrible reality is much less abstract: these numbers are people, and for the most part, as in all wars in the world, they are civilians. Ninety percent of the victims in wars
modern is represented by civilians, children, women, the elderly.
I was working on most of this book as there was no war in Ukraine yet, but I had already known many. In 2004, fromAfghanistan, I sent a letter to my daughter. I wrote to her: "I know well what I'm about to tell you is selfish, but I hope with all my heart that you never have to live a single moment of what I see now, here". Now, almost twenty years after that letter, I experience every news from the front with horror. Because I know war, I know it all too well. I know it brings death, pain, insecurity, hunger, disease. And I know that in any stupid useless war, the victims are always the same.
I also know that a just war never exists. There is from someone's side the idea of ​​being on the right side more than the other. To these come some, then all those who are good at filling their mouths with loud formulas, with special distinction, with acrobatic exercises for exporting peace, with noble armed speeches. Even when it makes sense, the method is always and only one: to send weapons, to increase military spending. But weapons do not speak, they kill. Weapons do not unravel, they gather other weapons.
I watch TV and I see exactly the same scenes that I experienced in Afghanistan, in Libya, in the Central African Republic, in Iraq. I see little Dawood without his leg, blown up in a mine. Or Omar and his friends, hit by bombs that some would like to be clever while playing close to home. I see Emanuel again, forced to die with pain, without the proper treatment, of the poverty that war after war has worsened in his country.
Everywhere I am reviewing the abolition of human rights. Because the fruit of war is everywhere here. Now that the war is here, close to us, with its caravan of wounded, dead, refugees in the millions, we may begin to have a clearer vision of what it really means to lose everything, to flee, to risk everything, everything cursed. .. moment to save their children's lives. Will we finally understand what war is now? "War is madness. Stop!".