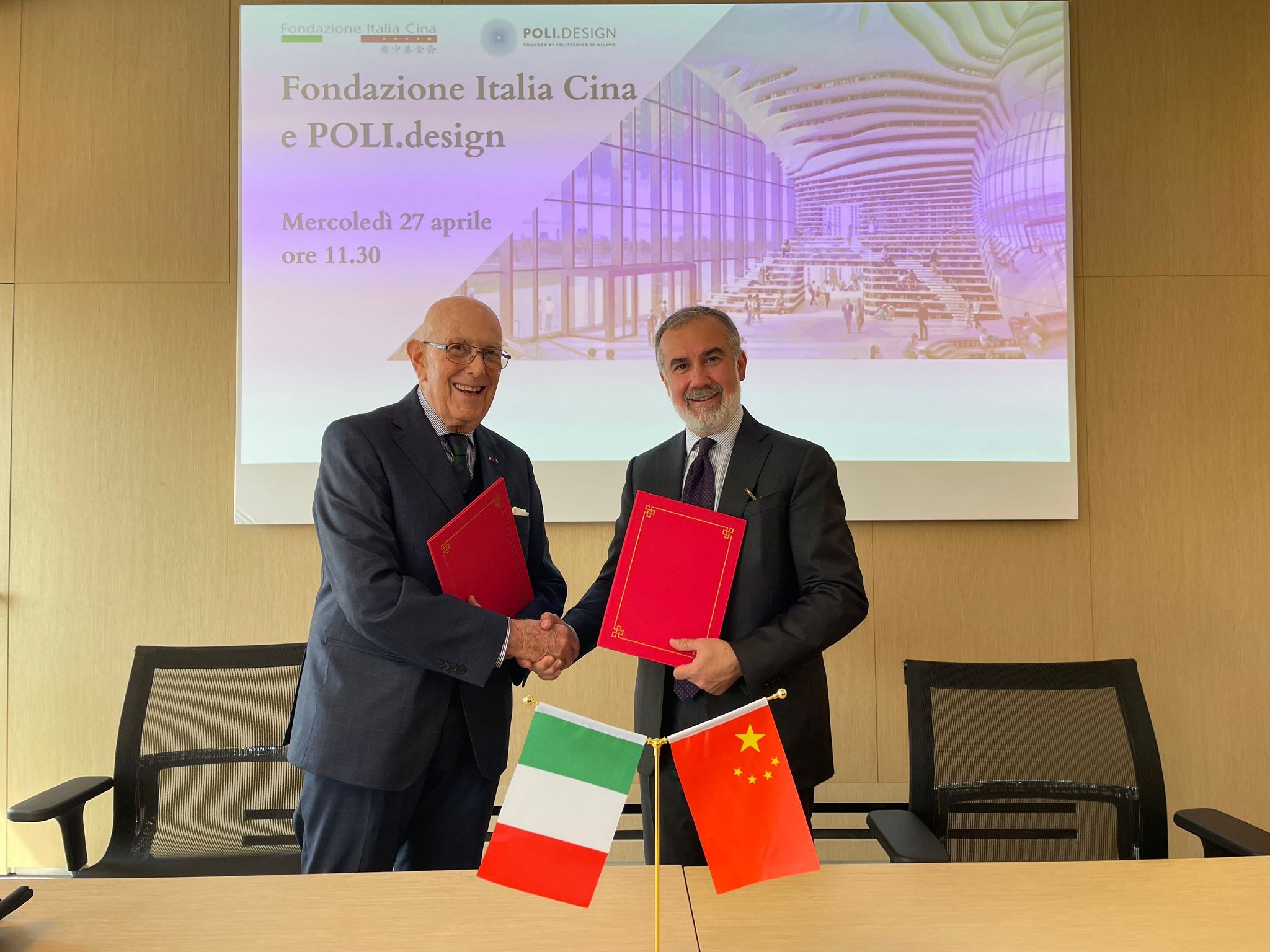 Italy China Foundation and POLI.design, the consortium of Politecnico di Milano, which together with the School of Design and the Design Department form Politecnico's design system, join forces to make design grow and its spread between Italy and China.
The collaboration agreement signed by Professor Matteo Ingaramo, CEO of POLI.design, and Mario Boselli, President of the Italy China Foundation, aims to promote and create educational courses for students, professionals and companies as well as to build a system of cultural and commercial relationship between the two countries.
The collaboration will address the sectors of the orange economy, sustainability and design through the production of new generation of goods and services, with a view to design and aesthetics as prominent themes for the expansion and development of manufacturing, service and third sectors. The main tools of the agreement will be educational programs, educational initiatives aimed at students and companies, as well as cultural events.
Together, the Italy China Foundation and POLI.design will prepare, promote and deliver joint training courses on specific topics and sectors and will work together to create a partnership in China for the mutual promotion of recruitment and teaching activities aimed at Chinese students in Italy and contingents of students for higher Italian education in the specific field of design. The one with Italy China Foundation is the fifteenth agreement added to those signed with major institutions such as: Beijing Normal University School of Future Design, China Industrial Design Association (CIDA), Hebei Industrial Design Innovation Center (HIDC), Shandong Fashion Design Association, Shenzhen Industrial Design Profession Association (SIDA), SIVA DeTao School of Design, Xiong An Future Industrial Design Institute, Yaok Training (premium design training body), Hainan Design Week, XXY Innovation (service design training body), Newton Business School ( Fashion and Fire Communication Training Agency), Guangzhou Design Week, User eXperience Professional Association (UXPA) China and Ipsos User Experience Institute.
Agreements that have made it possible to promote the training of designers through on-demand courses and specialization masters, to promote competitions, events, study trips in Milan. On the design front, the foundation has been very active over the years thanks to the work done by its permanent education school and its members who are experts in the sector. In particular, the school has for several years trained several companies registered in the FederlegnoArredo Made in Italy Club and actively contributed to their preparation and to the improvement of the offer to Chinese customers present at the Salone del Mobile in Milan and Shanghai. Among the hundreds of companies formed in 13 years of activity, the school boasts the collaboration with several realities related to the field of design, fashion, furniture as well as leading architectural studies. It has scientifically contributed to the creation of monograph editions dedicated to China by important sector publications and has partnered in events focusing on the promotion of Made in Italy designs, such as Salone itself and FIMI – Forum for Internationalization of Made in Italy in collaboration with Messe Frankfurt Italy and Hearst.
The collaboration between POLI.design and the Italy China Foundation also comes at a time when Italian design in China is in good health, as the figures confirm. According to data processed by the Study Center of the Italy China Foundation, Italian exports of design products to China in 2021 showed reassuring signs of improvement after the critical moments of 2020.
The percentage changes compared to the pre-pandemic period registered an increasing number in almost all areas: the absolute main character in 2021 was the jewelery sector, which registered a record growth of 207% compared to the same period in 2019. Good figures also for articles of clothing and footwear, which in 2021 boasted + 46.70% and + 34.23%, respectively. Glass products (+ 5.58%) and porcelain and ceramic products (+ 21.10%) as well as lighting equipment (+ 15.82%) are also growing. Also showing signs of growth are the sectors related to office and retail furniture (+ 10.34%), interior design (+ 9.84%), chairs and seats (+ 43.30%), armchairs and sofas (33, 75%). On the other hand, the sectors exhibited kitchen furniture (-13.68%), furniture parts and accessories (-16.42%) and other furniture, such as outdoor furniture (-5.72%), a slight slowdown. (All rights reserved)